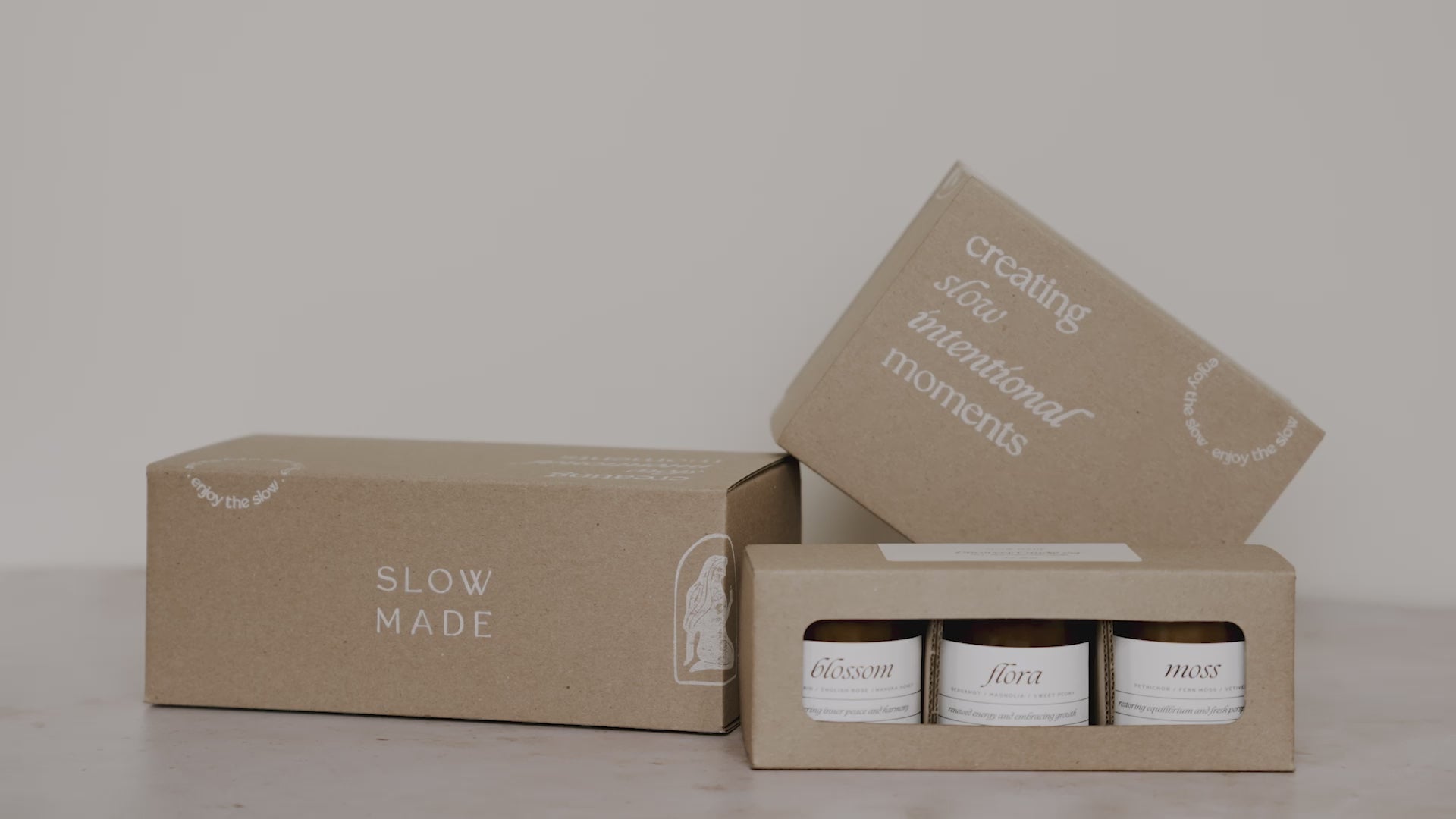 Our Ethos
Slow Made revolves around environmental sustainability and ethical choices. As a nature inspired brand, living sustainably is extremely important, we are very conscious of our impact on earth. 
Our goal is simple - to give you peace of mind while burning our candles in your home and around your loved ones. 
Plant-based ingredients
We use all-natural, renewable coconut/apricot/soy wax blend for a cleaner and more complete burn. We emphasize being as natural as possible, which means eliminating all known harmful synthetics and replacing them with naturally derived alternatives.
✗ No paraffins or petrochemicals
✗ No phthalates, parabens or sulfates
✗ No carcinogens, toxins, or other hazardous chemicals
✗ No artificial or synthetic fragrance
Responisble packaging
We've made a conscious decision to minimize plastic use in our packaging. Both our product packaging and shipping materials are entirely plastic-free. While some ingredients and supplies may arrive in plastic containers or wrappings, we prioritize recycling and reusing these materials. To further reduce waste, we opt for glass jars for our candles, as glass is infinitely recyclable and promotes a circular economy. Our metal lids and shipping boxes are also chosen for their recyclability, aligning with our commitment to minimizing our environmental impact. In fact, our shipping boxes are 100% recyclable and plastic-free, and most of them don't require additional materials like bubble wrap or packing peanuts. We believe in the power of recycling and strive to make sustainable choices throughout our packaging process.
Recycle & refills
At Slow Made, we are committed to minimizing our impact on the environment. That's why we offer a jar refill and recycle program to help reduce waste. Simply bring your used candle jars to our studio or mail them in, and you'll receive either a shop credit or the option to refill them at a discounted price. By participating in our program, you can join us in our efforts to reduce waste and promote sustainability.
One tree planted
We want our candlelight to be able to help you, to increase your magic, and make you feel comforted. Slow Made is not just a candle company, it's a labor of love. We care deeply about the planet and creating a business that gives back to nature. That's why we're thrilled to share that we're partnering with One Tree Planted to plant a tree for every candle purchased.